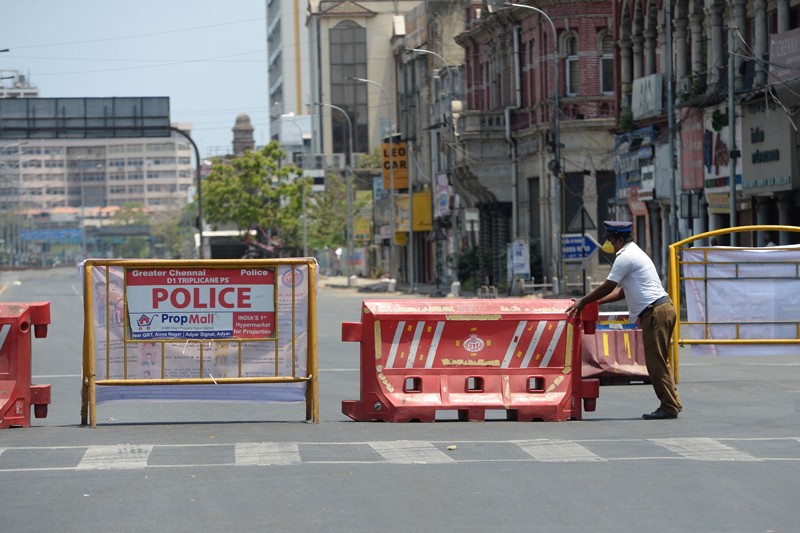 26 March 13:15 GMT — UK pledges to roll out extensive antibody testing
The United Kingdom could begin large-scale testing for coronavirus antibodies within days, government officials have said. If the roll-out goes ahead as planned, the country could become the first to implement at-home testing on this scale — but researchers caution that properly validating the accuracy of such tests and manufacturing them at scale presents a significant challenge.
On 25 March, a UK government official said that the country had ordered 3.5 million 'finger-prick' tests and planned to order millions more. The test will analyse drops of blood for antibodies that would show whether a person has been previously infected with the coronavirus that causes COVID-19. This would show who might now be immune and aid researchers to better understand the virus's spread. These 'serological tests' should become available for the public on the scale of days rather than weeks or months, said Sharon Peacock, director of the national infection service at Public Health England (PHE), a UK health authority. Peacock suggested that the bulk of the UK tests, which will be available to buy from Amazon and pharmacies to perform at home, had not yet arrived.
Most tests to diagnose coronavirus infection have involved laboratory-based testing using the technique known as PCR, which checks for active infection. But an urgent goal has been to develop serological tests, which can detect past infection. These are now also being deployed worldwide. Singapore, for instance, has used the tests for more than a month to trace known infections and monitor at-risk populations.
But thoroughly evaluating the efficacy of the rate of false positives in the tests is essential, says Robert Garry, a virologist at Tulane University School of Medicine in New Orleans, Louisiana, whose team is developing its own serological test.
The blood test will need to distinguish between COVID-19 antibodies and those of other seasonal coronaviruses to which people are commonly exposed, he says. "I would expect the false positive rate to be very high because of this prior exposure — unless they figured out how to make the serological test very specific," he said. Garry says that for a validated test, he would expect a false-positive threshold of less than 5% — meaning fewer than 5 out of 100 people without the antibodies test positive — although he could see that being relaxed to 10%. Even with ready access to clinical samples, understanding false-positive level on this timescale would require a massive effort, says Garry.
PHE is evaluating the new tests to ensure they work as claimed, said Peacock, who anticipates this to be done by the end of the week.
But supply is likely to remain limited, says David Wraith, an immunologist at the University of Birmingham, UK. It will be challenging for companies to manufacture millions of tests and for any one government to secure many during a global pandemic, meaning healthcare workers must be given priority access, he says.
It is not clear who is developing the UK test. A PHE spokesperson said it was talking to a range of companies. Peacock added that highly vulnerable members of the public who test positive will also require further tests before they can resume normal life.
26 March 3:00 GMT — 100 scientific organizations call to end Trump's ban on fetal-tissue research
A group of 100 research societies, professional organizations and universities is calling on US President Donald Trump to lift restrictions on the use of fetal tissue in research, arguing that the limits delay necessary work on potential treatments for COVID-19.
"We believe that researchers should have all of the biomedical research tools out there to develop treatments for COVID-19," says Eric Anthony, director of policy at the International Society for Stem Cell Research in Skokie, Illinois, a key signatory of the letter sent on 25 March.
Fetal tissue, often received from abortion clinics, has long been used in vaccine research. But last June, the Trump administration, following a campaign by opponents of abortion, moved to ban government scientists from using fetal tissue in research once their existing supplies ran out. The rules also included restrictions for non-government scientists funded by the US National Institutes of Health (NIH), requiring that new grant applications for research that uses fetal tissue pass ethics review by an agency-appointed board.
The US Department of Health and Human Services (HHS), which oversees the NIH, invited nominations to that ethics board in February, and the comment period closed last week.
Signatories to the letter asking for relief from the federal restrictions include the American Academy of Pediatrics, Johns Hopkins University, Massachusetts General Hospital and Harvard University.
At least one government scientist has appealed for an exemption to the rules in order to do coronavirus research, according to a story in The Washington Post last week. An HHS spokesperson told Nature that the agency has made no decision about the request, and that the "Trump Administration has activated a whole-of-government, whole-of-America approach to prepare for and respond to COVID-19".
25 March 11:00 GMT — India starts three-week lockdown
India has commenced a 21-day lockdown, after Prime Minister Narendra Modi ordered the country's 1.3 billion residents to remain in their homes from midnight on 24 March.
Many countries have introduced travel restrictions to slow the spread of the coronavirus. But the lockdown in India, which has the world's second-largest population, will dwarf similar measures in other nations.
Currently, the country has roughly 500 reported cases, and 9 reported deaths, but researchers say that infections are probably going undetected there given the size of its population. The country had tested about 15,000 people for the coronavirus by 20 March, according to Our World in Data.
Under the new restrictions, flights and train services are suspended, and road access is restricted in every state. Medical centres, petrol stations and grocery stores are exempt from the lockdown.
"The nation will have to certainly pay an economic cost because of this lockdown. However, to save the life of each and every Indian is our topmost priority," said Modi during a televised address.
25 March 01:00 GMT — The outbreak in Italy went undetected for weeks
The novel coronavirus SARS-CoV-2 was present in northern Italy as early as 1 January.
An epidemiological analysis of Lombardy, the epicentre of the outbreak in Italy, reveals that the first onset of symptoms in the country occurred weeks before COVID-19, the disease caused by the virus, was reported there on 20 February. The study looks at nearly 6,000 laboratory-confirmed cases to track how the outbreak unfolded in the region. It was posted to the arXiv preprint server on 20 March.