As per the latest update by the Ministry of Health, the total Indian number of cases rose to 8447.
07:29 PM
Rahul Gandhi on economic health of Indian corporates and their future
The massive economic slowdown has weakened many Indian corporates making them attractive targets for takeovers. The Govt must not allow foreign interests to take control of any Indian corporate at this time of national crisis.5,908Twitter Ads info and privacy2,454 people are talking about this07:25 PM
Delhi now has 43 Covid-19 hotspots, reports TIMES NOW
07:18 PM
Tim Brooke-Taylor, star of 'The Goodies', dies at 79 due to coronavirus
07:15 PM
India is fighting COVID-19 tooth-and-nail
Hardeep Singh Puri✔@HardeepSPuri
More than 100 tons of cargo moved in a single day under Lifeline UDAN.

214 flights have now transported 373 tonnes of critical medical & essential cargo across 199,784 kms since 26th March 2020.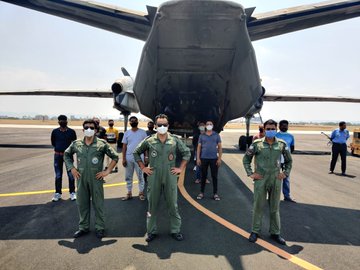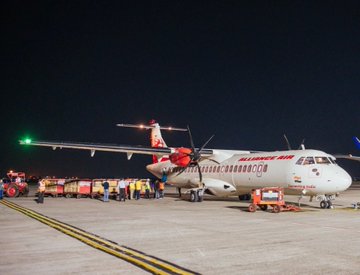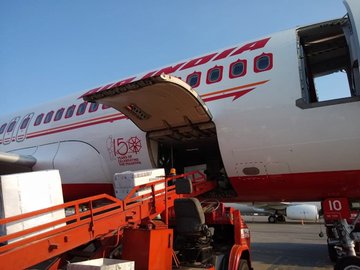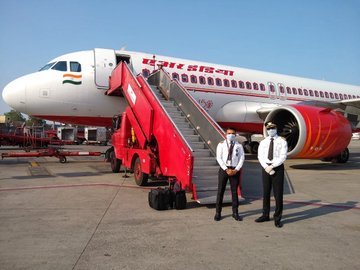 253Twitter Ads info and privacy74 people are talking about this07:11 PM
COVID-19 woman gives birth to 'healthy' baby boy in Tamil Nadu
A coronavirus positive woman has given birth to a 'healthy' baby boy at a government medical college hospital, where she has been undergoing treatment, officials said on Sunday.
A team of doctors carried out the cesarean delivery at the Perundurai IRT Government Medical College Hospital, designated facility for COVID-19 cases, on Saturday night, they said.
07:09 PM
Geography paper of Maharashtra State Board Class 10th Board has been cancelled by the state government
07:05 PM
2 govt doctors, 2 railway hospital doctors, 4 private hospital doctors, and 5 nurses have tested positive for COVID19
– Beela Rajesh, Tamil Nadu Health Secretary07:02 PM
Parliament House Reception Catering Unit will be closed from April 15 in view of COVID19 outbreak
– Lok Sabha Secretariat (Reports ANI)06:57 PM
Punjab case count stands at 170
The total number of COVID19 cases in the state now stands at 170 including 135 active cases and 23 cured: Department of Information and Public Relations, Government of Punjab06:53 PM
Uttarakhand reports no new case for the fourth day in a row
No new positive case in the state for the fourth day in a row.
The total number of cases in the state remains at 35: Uttarakhand Health Department
Reports ANI
06:50 PM
England's coronavirus death toll rises by 657 to 9,594
06:48 PM
The total number of COVID19 positive cases in Haryana is 181 including 149 active cases & 30 discharged; death toll 2
Reports ANI06:45 PM
Andhra Pradesh prohibits smokeless or chewable tobacco products and spitting in public places
Government of Andhra Pradesh has prohibited the consumption of smokeless or chewable tobacco products and spitting in public places, to avoid COVID19 transmission, reports ANI.06:40 PM
KVIC to supply 7.5 lakh double-layered khadi masks to J&K
The Khadi and Village Industries Commission on Sunday said it will soon supply 7.5 lakh double-layered khadi masks to Jammu & Kashmir.
In a statement, KVIC said 5 lakh masks out of these will be supplied to Jammu district, 1,40,000 to Pulwama district, 1 lakh to Udhampur district and 10,000 to Kupwara district.
06:38 PM
Delhi Police receives over 750 calls in a day for help during lockdown
06:31 PM
UK may become Europe's worst-hit COVID-19 country, warns expert
The UK could end up being one of the worst-hit European countries in the coronavirus pandemic, a senior scientific adviser to the government warned on Sunday.
Sir Jeremy Farrar, director of the Wellcome Trust who sits on the British government's scientific advisory committee SAGE, said Britain is facing the highest death toll in the region as further waves of the deadly virus cannot be ruled out.
06:28 PM
Tamil Nadu reports 106 fresh coronavirus cases; State tally crosses 1,000-mark
106 new positive cases reported in Tamil Nadu today, of which 90 persons are from 'single source conduct'. Total number of positive cases rises to 1075 in the state, of which 971 cases are from single source conduct. Total 11 deaths till now: Beela Rajesh, Tamil Nadu Health Secy (ANI)
06:20 PM
China toughens restrictions on border with Russia as imported coronavirus cases hit record
Chinese cities near the border with Russia said on Sunday they would tighten border controls and quarantine measures on arrivals from abroad after the number of imported cases of COVID-19 hit a one-month high.
New daily confirmed cases in mainland China reached 99 on April 11, almost doubling from 46 the previous day. All but two of the new recorded cases involved people travelling from abroad, many of them Chinese nationals returning from Russia.
06:12 PM
Chandigarh reports two new cases today
Two positive COVID19 cases have been reported today
they are family members (household contacts) of a 40-year-old male who was detected positive on 10 April.
Total 21 persons have tested positive in Chandigarh till date: Health Department, Chandigarh
Reports ANI
06:04 PM
Boris Johnson 'discharged from hospital': Downing Street
06:02 PM
Karnataka case count 232
As of 5:00 PM today, cumulatively 232 COVID19 positive cases have been confirmed in Karnataka, it includes 6 deaths & 54 discharges: Department of Health and Family Welfare, Government of Karnataka05:58 PM
Random samples of 200 people in Pondy test negative for COVID 19
All the samples collected from 200 people at random at various primary health centres (PHCs) in Puducherry region on April 10 and 11 tested negative for the coronavirus.
A spokesman of the Department of Health and Family Welfare Services of Puducherry told PTI on Sunday that the samples were collected from the patients who turned up for general treatment for various ailments at the PHCs.
05:53 PM
28 more coronavirus cases surface in UP; total count 480
Twenty-eight more coronavirus cases surfaced in Uttar Pradesh on Sunday, taking the count in the state to 480, a state government official said.
Principal Secretary (Medical and Health) Amit Mohan Prasad said so far 480 cases have been reported from 41 districts of the state.
05:53 PM
Drive-through Covid-19 testing centres launched in Mumbai
The financial capital, home to the maximum Covid-19 cases in the country, on Sunday witnessed the launch of its first drive-through testing sites.
SRL Diagnostics, which has launched three such facilities in the city, said a test sample will be collected within 10 minutes without a person needing to step out of his car and results conveyed the same or next day over e-mail.
05:48 PM
The number of containment zones will be increased in Delhi in next 2-3 days
– Delhi CM Arvind Kejriwal05:44 PM
High-risk zones will be declared as orange zones. Containment zones have already been declared as red zones
– Delhi CM Arvind Kejriwal05:43 PM
Total 33-35 containment zones have been already identified till now
– Delhi CM Arvind Kejriwal05:43 PM
J&K reports 21 new cases today; total case count 245
21 new cases of COVID19 reported in J&K today.
17 from Kashmir Division and 4 from Jammu Division.
Total number of positive cases now 245: Rohit Kansal, Principal Secretary-Planning, Jammu and Kashmir
Reports ANI
05:39 PM
Massive sanitisation drive to begin tomorrow in the red zones
– Delhi CM Arvind Kejriwal05:37 PM
Identifying areas that will be declared containment zones
– Delhi CM Arvind Kejriwal05:36 PM
Massive sanitization drive being started all over Delhi. We are making every effort to ensure you stay safe
– Arvind Kejriwal05:34 PM
MHA has written to all States/ UTs to ensure compliance of SC directions on the welfare of migrant labourers housed at relief shelters and camps
Reports ANI05:31 PM
In Kerala, 36 people recover from COVID19 in a single day
Only 2 new COVID-19 cases reported in the state today: Kerala Health Minister KK Shailaja
Reports ANI
05:28 PM
Vedanta aims to manufacture about 50K PPE per day
Vedanta is targeting to indigenously manufacture about 50,000 personal protective equipment every day amid talks of PPE shortage in the country following coronavirus outbreak.
The company will start manufacturing personal protective equipment (PPE) by the first week of next month, Ritu Jhingon, CEO of Nand Ghar project, Vedanta Ltd told PTI.
05:26 PM
Manipur's first COVID-19 patient discharged from hospital
The first COVID-19 positive patient of Manipur, who was undergoing treatment at Jawaharlal Nehru Institute of Medical Sciences (JNIMS), was discharged from the hospital on Sunday, doctors said.
05:24 PM
Wearing masks made compulsory in Haryana, violators to face action
Haryana Home Minister Anil Vij on Sunday said that wearing face masks has been made compulsory while stepping outside homes in the state during the lockdown and anybody found violating the orders will face action as per law.05:22 PM
Increase of 918 new COVID19 cases and 31 deaths in last 24 hours; India's total number of Coronavirus positive cases rises to 8447
– Ministry of Health and Family Welfare05:21 PM
India case count jumps to 8447; recoveries now at 765
05:04 PM
16 of 18 active coronavirus cases linked to Jamaat event: Himachal Pradesh officials
Sixteen of the 18 active coronavirus cases currently in Himachal Pradesh are linked to the Tablighi Jamaat congregation in Delhi's Nizamuddin last month, officials said on Sunday.
The officials said they are either members of the Jamaat or their contacts.
05:01 PM
Bhiwandi: 62-year-old man tests coronavirus positive
04:58 PM
Andhra Pradesh govt to distribute over 16 cr masks to citizens to help check COVID-19
In a first-of-its-kind initiative, the Andhra Pradesh government will soon distribute over 16 crore facial masks to all citizens in the state for protecting themselves from coronavirus.
Chief Minister Y S Jagan Mohan Reddy, who chaired a high-level review meeting at his residence on Sunday directed officials to complete the mask distribution quickly.
04:56 PM
Over 40 candidate vaccines under development but none of them has reached next stage: ICMR
04:54 PM
30 nurses put under quarantine at Ruby Hall Hospital in Maharashtra
Maharashtra 30 nurses have been put under quarantine at Ruby Hall Hospital after a 45-year-old nurse working here tested positive for COVID19: Sanjay Pathare, Director, Medical Services, Ruby Hall Hospital, Pune (ANI)04:53 PM
20,000 train coaches to be converted into isolation wards. In first phase, 5,000 being converted
– Health Ministry04:49 PM
COVID-19 death toll in Bhopal rises to 2, cases climb to 135: Health officials
Reports PTI04:49 PM
Today, 1,671 beds are required, we have more than 1.05 lakh dedicated COVID-19 beds: Health Ministry
04:45 PM
14 identified institutes including AIIMS, NIMHANS to mentor medical colleges and expand COVID-19 testing capacity
– Health Ministry04:44 PM
GoM has approved release of hydroxychloroquine to 13 countries
– MEA04:35 PM
Resurgence in coronavirus patients is a cause of worry for us, we cannot be lenient in our efforts
– Health Ministry04:34 PM
Tamil Nadu records third highest number of Covid cases with total count of 969
04:32 PM
45-year-old woman dies of COVID-19 in Chennai, death toll in Tamil Nadu rises to 11, reports PTI
04:29 PM
Odd-even rules for sale of vegetables at Azadpur mandi from Monday
The Azadpur mandi, the largest wholesale fruit and vegetable market in the country, has decided to introduce odd-even rules from Monday to maintain social distancing in the wake of the coronavirus outbreak.
It has also been decided to stagger timings — 6 am to 11 am for sale of vegetables and 2 pm to 6 pm for sale of fruits — at the mandi.
04:27 PM
909 COVID-19 cases, 34 deaths reported in last 24 hours: Health Ministry
04:26 PM
13 new cases in Malegaon in Nashik, count touches 31
Thirteen people tested positive for the coronavirus in Malegaon in Maharashtra's Nashik on Sunday, taking the count of active COVID-19 cases in the district to 31, health officials said.
All the new cases are those who had come in contact with earlier patients, they said.
04:25 PM
Coronavirus patient booked for 'spitting' on doctor at govt hospital in Tamil Nadu
A 40-year-old COVID-19 positive patient was on Sunday booked for "attempt to murder" after he allegedly spat on a doctor treating him at the government hospital, police said.
It was a serious crime under the present conditions with so many restrictions in force to prevent the spread of coronavirus, they said.
04:22 PM
We are extra prepared in case of exponential rise in COVID-19 cases
– Health Ministry04:20 PM
Total 1,86,906 samples have been tested so far, of which 7,953 have been found positive for COVID-19: ICMR
04:19 PM
Currently, there are 219 testing facilities in the country, including 151 labs in pubic sector and 68 in private sector
04:19 PM
In last five days, on average 15,747 samples were tested per day and 584 of those were found positive per day: ICMR
04:17 PM
25-year-old man, who in TikTok video ridiculed use of masks for protection against COVID-19, tests positive for the disease in Madhya Pradesh
Reports PTI04:15 PM
Health Ministry's update on Coronavirus Pandemic in India
273 deaths reported so far
Total 8,356 positive cases
909 positive cases in last 24 hours
716 recoveries so far
04:13 PM
No need to panic, government is aware and is planning things so as to manage the situation
– Health Ministry04:11 PM
ICMR's update on Coronavirus Pandemic
151 government coronavirus testing facilities
68 private centres
04:10 PM
716 coronavirus cases have recovered and are ready to get discharged
– Lav Agarwal04:09 PM
Situation regarding essential commodities is under control
– Home Ministry04:06 PM
Three Indian nationals test positive for coronavirus in Nepal
Three Indian nationals, who entered Nepal from India for a religious mass gathering and were staying at a mosque in the southern part of the country, have tested positive for the novel coronavirus, the health ministry here said on Sunday.04:05 PM
Rajasthan records 96 more cases of coronavirus; total now 796, reports PTI
03:59 PM
One more COVID19 hotspot to be sealed in Delhi
One more COVID19 hotspot to be sealed in Delhi – Lane 5 & 5A, H-2 block at Bengali Colony, Mahavir Enclave.
The total number of sealed hotspots in the national capital is now 34.
Reports ANI
03:58 PM
Pope calls for reduction or forgiveness of poor nations' debt
03:58 PM
In the near future, whatever program will be announced by Prime Minister, along with the people of Assam, all the political parties will stand by the side of PM to defeat COVID19
– Assam Chief Minister Sarbananda Sonowal03:54 PM
UAE launches online weddings amid coronavirus controls
The United Arab Emirates has launched an online marriage service that allows couples to wed amid restrictions on movement and interaction imposed to counter the deadly coronavirus.
The UAE has taken strict measures to combat the spread of the COVID-19 respiratory disease, which has claimed the lives of well over 100,000 people worldwide.
03:52 PM
Tripura to conduct tests for all 769 persons, who are now in quarantine, within a week
Tripura government has decided to conduct tests for all 769 persons, who are now in quarantine, within a week.
As of now, 337 samples have been tested including the two positive cases.
Reports ANI
03:50 PM
22 health workers of Kolkata hospital placed under quarantine
At least 22 health workers of state-run RG Kar Medical College and Hospital have been placed under quarantine, after two patients admitted there tested positive for COVID-19, a health department official said.
Swabs samples of each of them have been collected and sent for examination, he said on Sunday.
03:46 PM
We also do not support the lifting of lockdown on April 14. It is true that the economy is affected, but the lives of people are more important
– Madhya Pradesh Chief Minister Shivraj Singh Chouhan03:44 PM
Haryana reports 14 new infections, cases rise to 179
COVID19 cases rise to 179 in Haryana after 14 new infections, including 7 from worst-hit Nuh district, were reported: Health department
Reports PTI
03:43 PM
Centre has 534.78 LMT of rice and wheat, monthly PDS supply is 60 LMT; bumper rabi crop a boost
– Union minister Ram Vilas Paswan03:41 PM
Coronavirus death toll passes 75,000 in Europe: AFP tally
More than 75,000 people have died from the coronavirus in Europe, with 80 percent of the fatalities occurring in Italy, Spain, France and Britain, according to an AFP tally at 0945 GMT Sunday compiled from official sources.
With a total of 75,011 deaths from 909,673 infections, Europe is the hardest-hit continent in the COVID-19 pandemic, which has killed at least 109,133 people worldwide.
03:40 PM
Admin/police has allowed for the provision of door delivery of essential goods inside the hotspots in Gautam Buddh Nagar
Admin/police has allowed for the provision of door delivery of essential goods inside the hotspots. Some RWA's are forcing the residents to go to the gate compulsorily. Request them to follow rules. Violation shall be strictly dealt with.- DM and CP1,588Twitter Ads info and privacy465 people are talking about thisDM G.B. Nagar✔@dmgbnagar
Admin/police has allowed for the provision of door delivery of essential goods inside the hotspots. Some RWA's are forcing the residents to go to the gate compulsorily. Request them to follow rules. Violation shall be strictly dealt with.- DM and CP1,588Twitter Ads info and privacy465 people are talking about this03:37 PM
Centre has enough grains in godowns for nine months of PDS supply to over 81 cr beneficiaries
– Union minister Ram Vilas Paswan03:27 PM
Iran death toll up to 4,474
03:21 PM
Spanish death toll climbs after three-day daily decline
The country's total death toll from the virus climbed to 16,972 from 16,353. Overall cases rose to 166,019 from 161,852.03:16 PM
Lawyers write to CJI, asking to take suo motu note of the rise in child abuse cases during lockdown
The letter said that during the lockdown, although overall rate of crime had gone down, incidents of abuse and violence faced by children have risen.
"Under normal circumstances, it is not considered safe for abused children to stay at home as it might result in further suffering at the hands of their own family members. However, during the lockdown the danger to these children is exacerbated, as they are unable to leave their homes. The isolation has further shattered support networks, making it even more difficult for the victims to seek help or escape," the letter said.
03:04 PM
Rs 5000 fine/3-year jail for not wearing a mask in Ahmedabad
02:51 PM
UAE ready to fly stranded Indians if they test negative
The Gulf country has offered to fly stranded Indians and citizens of other countries, who wish to be repatriated, if they test negative for COVID-19.
They have also offered to test those who want to be evacuated.
02:42 PM
Andhra Pradesh case tally goes up to 417
02:41 PM
Malaysia reports 153 fresh cases
4,683 cases have been reported in the country, so far.02:38 PM
11 new cases in Karnataka
The fresh additions take the state's tally up to 226.02:37 PM
One more death in Tamil Nadu; state death toll now 11
The southern state has so far reported 969 positive cases.02:32 PM
Indonesia reports biggest daily jump
An increase of 399 cases took the South Asian nation's case count to 4,24102:29 PM
Haryana positive cases rise to 179
14 fresh cases were reported, of which seven are from the Nuh district, the state's most affected region.02:15 PM
Beijing to reopen some schools
Beijing schools closed due to the outbreak will reopen to senior high school students and senior middle school students, state broadcaster CCTV reported on Sunday, citing a spokesman for the Beijing Municipal Education Commission.
Senior high school students are set to return to campus on April 27, and senior students at middle schools will return to campus on May 11, said spokesman Li Yi at a press conference, according to the CCTV report.
02:08 PM
Situation is very serious; cases will rise if more testing is done
– Former MP CM, Kamal Nath02:05 PM
3 new positive cases reported in Bhopal
Total cases in Bhopal are up to 134, while two people have succumbed to the illness.01:38 PM
134 new cases in Maharashtra; state tally rises to 1,895
01:16 PM
Russia reports 2,186 new cases in 24 hours, up from 1,667 new cases the day before
01:05 PM
Karnataka State RTC cancels bookings, starts refunds
01:03 PM
Three Indian nationals test positive in Nepal
With the three fresh cases, the total number of infections in the country has gone up to 12.01:02 PM
China's imported cases hit record number
New virus cases doubled to 99, nearly all imported.
China is stepping up scrutiny of inbound foreigners and tightening border control.
12:39 PM
Delhi government declares 33 containment zones
Areas around House No-A 176, Deoli Extension; A-30 Mansarovar Garden; and Street nos. 1 to 10, C block, Jahangirpuri are included.12:30 PM
Seven people arrested in relation with attack on police team in Patiala
12:20 PM
Pakistan reports 254 new infections, death toll reaches 86
Pakistan's cases hit 5,038, while 14 more deaths pushed the toll to 8612:18 PM
Five new cases in Nashik, district total now 20
12:16 PM
Nihangs asked to show curfew passes chop cop's hand off in Punjab
A group of four-five Nihangs – an order of Sikhs – were asked to stop at a vegetable market at around 6.15 am.
"An ASI's (Assistant Sub Inspector) hand was chopped off by a sword. A Station House Officer of Sadar Patiala sustained an injury on his elbow and anther official suffered an injury on his arm in the attack," Senior Superintendent of Police, Patiala, Mandeep Singh Sidhu told PTI.
11:54 AM
Foreign investors pull out over Rs 9,000 crore from Indian markets
As per latest depositories data, foreign portfolio investors (FPI) withdrew a net sum of Rs 2,951 crore from equities and Rs 6,152 crore from the debt segment between April 1-9.
Total net outflow stands at Rs 9,103 crore.
In the previous month, FPIs had withdrawn a record amount of over Rs 1.1 lakh crore (net).
11:50 AM
Canada approves its largest economic aid program since WWII
The country has adopted a $52 billion program, which aims to pay companies 75% of their employees' salaries to avoid massive layoffs.11:35 AM
Mumbai's Dharavi reports 15 new cases
Total cases in the locality are now up to 43.11:19 AM
25 new cases in Gujarat; state tally rises to 493
10:52 AM
Rajasthan records 51 new cases
Total cases in the state are now up to 751.10:31 AM
Four more test positive in Odisha, total count now 54
10:29 AM
Thailand reports 33 new cases, three deaths
New numbers take the total to 2,551 cases, as well as three more deaths; the southeast Asian nation's toll rises to 38.10:07 AM
US overtakes Italy with highest deaths
The total number of deaths are at 20,506 and as many as 527,111 people have been infected by the contagion so far.09:49 AM
Japan records 714 new cases
The latest spike brings the number of total infections to 7,460, including 712 from the Diamond Princess cruise ship.09:15 AM
5 recovered persons volunteer to work at COVID-19 care centre
Ahmedabad civic body has roped in five persons who have recovered from the coronavirus infection to work as volunteers at a care centre set up for asymptomatic COVID-19 patients who do not suffer from any underlying complications. The initiative has been taken as the patients who have recovered are likely to have developed immunity to the disease and chances of them contracting the infection again are several times less than others, Ahmedabad Municipal Commissioner Vijay Nehra said on Saturday.08:49 AM
Coronavirus infects more than 8000 people in India
The novel coronavirus has infected 8,356 people in India, killed 273, as per the latest update by the Union Health Ministry. According to the latest data available 909 new cases were reported in the last 24 hours, 34 people have died of the infection.08:41 AM
Coronavirus cases in India cross 8000 mark
08:08 AM
Pope to livestream Easter mass to locked down world
07:49 AM
Saudi King approves extension of curfew until further notice
Saudi Arabia's King Salman approved an extension of the kingdom's curfew until further notice due to the rate at which the coronavirus is currently spreading, the state news agency (SPA) reported early on Sunday.
The Saudi king has previously ordered a curfew that took effect on March 23, from 7 pm to 6 am for 21 days, to curb the spread of the coronavirus, state media reported.
Last week Saudi Arabia placed its capital Riyadh and other big cities under a 24-hour curfew, locking down much of the population to stem the spread of the new coronavirus.
07:22 AM
North Korea calls for stronger coronavirus measures
North Korea called for stronger measures against the rapidly spreading coronavirus pandemic at a meeting presided by leader Kim Jong Un, state media reported Sunday, without acknowledging whether the country had reported any infections. The already isolated, nuclear-armed North quickly shut down its borders after the virus was first detected in neighbouring China in January, and imposed strict containment measures.07:07 AM
Hydroxychloroquine consignment reaches US
Taranjit Singh Sandhu@SandhuTaranjitS
Supporting our partners in the fight against #Covid19. Consignment of hydroxichloroquine from India arrived at Newark airport today.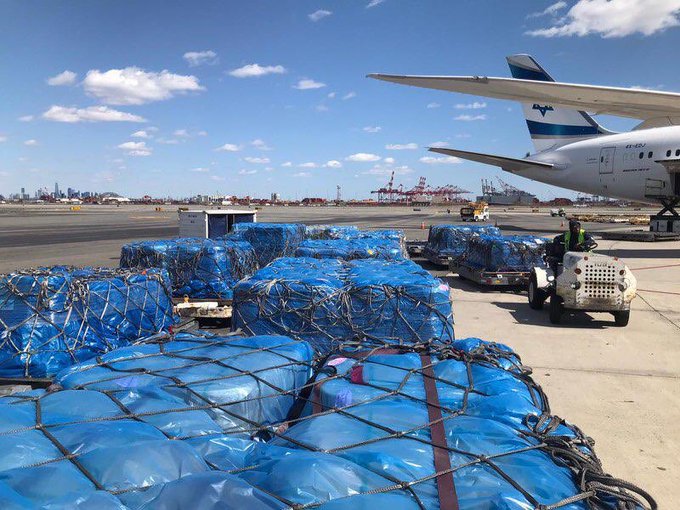 8,520Twitter Ads info and privacy1,679 people are talking about thisTaranjit Singh Sandhu@SandhuTaranjitS
Supporting our partners in the fight against #Covid19. Consignment of hydroxichloroquine from India arrived at Newark airport today.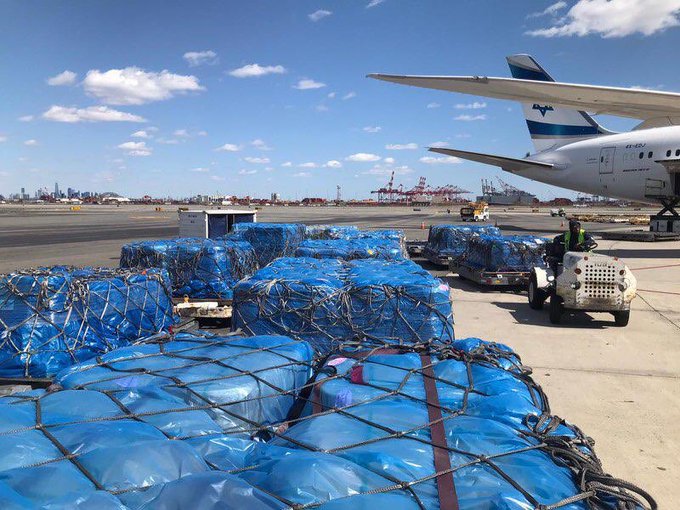 8,522Twitter Ads info and privacy1,681 people are talking about this06:37 AM
7 test positive for COVID-19 in Korba; tally reaches 25 in Chhattisgarh
Seven more people tested positive for COVID-19 from Korba district's Katghora, according to the All India Institute of Medical Sciences, Raipur.
With this the total number of COVID-19 cases in Chhattisgarh has reached 25.
However, 10 patients have been cured and discharged out of the 25 total cases.
The total number of positive COVID-19 cases in the country has risen to 7,703, according to the Indian Council of Medical Research (ICMR) on April 11.
As per a notification by the ICMR at 9 pm on Saturday, a total of 1,79,374 samples from 1,64,773 individuals have been tested.
06:36 AM
US records 1,920 virus deaths in past 24 hours: Johns Hopkins
The United States recorded 1,920 deaths related to the novel coronavirus over the past 24 hours, according to a tally by Johns Hopkins University as of 8:30 pm Saturday (0030 GMT Sunday).
The number of fatalities was lower than the previous day's record toll of 2,108.
The outbreak has now claimed the lives of at least 20,506 people in the US, the most of any country.
The US also leads the world in the number of confirmed infections, with 527,111 by the Baltimore-based school's count.
06:35 AM
How long does it take to collect the sample?
"It takes about 1-2 min to collect nasal/throat swab;reports will be given online. It is compulsory for those who want to be tested for #COVID19 to obtain a prescription from a registered medical practitioner",Gurugram Municipal Corporation Commissioner,Vinay Pratap Singh (11.04) https://twitter.com/ANI/status/1249128200652849152 …ANI✔@ANIHaryana: A drive-through sample collection centre has been set up in Gurugram to ease #COVID19 tests."One can apply for the test by filling details online. The patient can drive on own or can be accompanied by another person",Municipal Corporation Commissioner, Vinay Pratap Singh254Twitter Ads info and privacy57 people are talking about this06:34 AM
Mohammad Ali Jauhar University in UP's Rampur to be used as quarantine centre
06:34 AM
UK pleges 200 million pounds in aid to help stop second coronavirus wave
Britain said on Sunday it was pledging 200 million pounds ($248 million) to the World Health Organisation (WHO) and charities to help slow the spread of the coronavirus in vulnerable countries and so help prevent a second wave of infections. Britain has reported almost 10,000 deaths from the coronavirus so far, the fifth highest national number globally.