Coronavirus update: Stay tuned with times delhi for latest news on coronavirus, world death toll, and cases across the world and in India
India updates: With 2,958 new cases in 24 hours, the total number of coronavirus cases in India has reached 49,391. And with 126 more people having lost their lives to the infection, the country's death toll at present is 1,694, according to the Ministry of Health and Family Welfare. India is set to bring back around 250,000 citizens from across the world.
Maharashtra, the most affected state in India, now has 15,525 corona cases, with an addition of 986 on May 5. Tamil Nadu, which recently witnessed a sudden surge in the number of cases, now has 4,058 cases. It again saw more than 500 cases in a single day on Tuesday. Telangana decided to extend its lockdown till May 27 and the Karnataka government asked Indian Railways to cancel all trains that were to ferry migrant workers to their home towns.
Coronavirus world update: The global tally of coronavirus infections currently stands at 3,727,865, and 258,040 people have succumbed to the infection so far.
Stay tuned for all coronavirus LIVE updates.
10:25 AM
#WATCH West Bengal: Disinfectant was sprayed on ppl at Dankuni railway station who arrived in Hooghly y'day from Ajmer(Rajasthan) by 'Shramik Special Train.' The train carrying around 1100 ppl, mainly migrant workers, had arrived in Hooghly yesterday. #CoronavirusLockdown (05.05)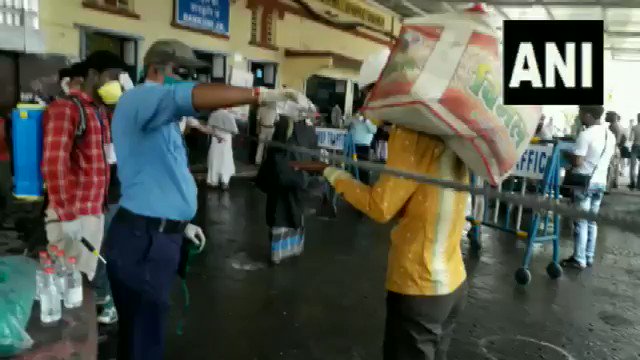 114Twitter Ads info and privacy34 people are talking about this10:23 AM
Aarogya Setu app developers allay concerns after ethical hacker points out flaws in contact tracing app
As the debate about the potential privacy issues around the Aarogya Setu app continues, the developers have shared a clarification on certain issues raised by an ethical hacker
Statement from Team #AarogyaSetu on data security of the App.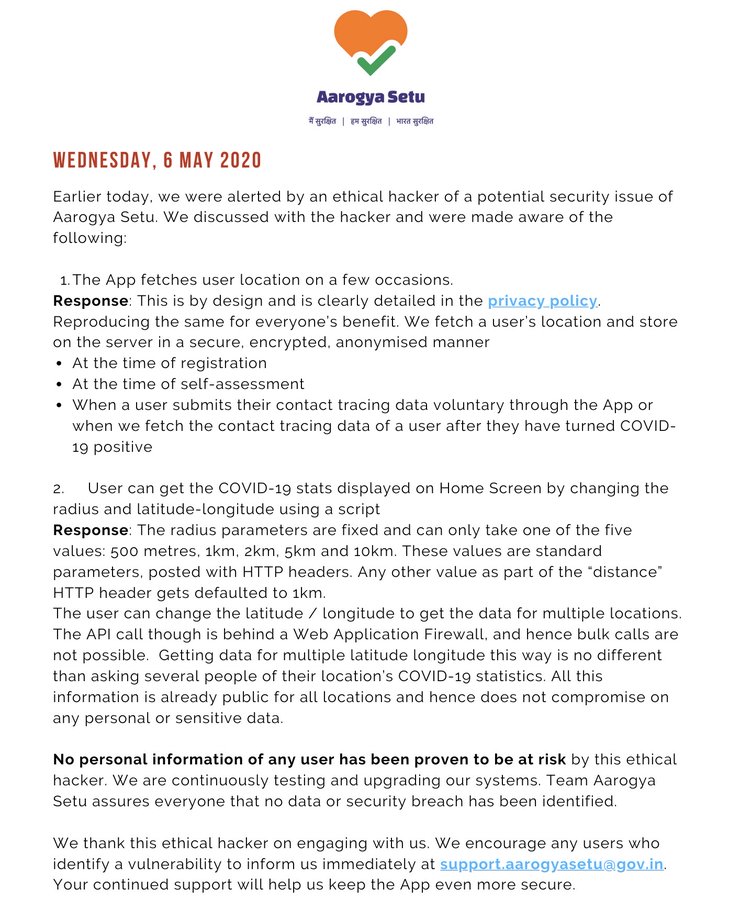 7,745Twitter Ads info and privacy2,420 people are talking about this10:19 AM
Corona cases in India: Punjab and Tamil Nadu have seen the highest daily growth rate — of 18% and 14%, respectively
Among states with more than 100 cases, Punjab and Tamil Nadu have seen the highest daily growth rate — of 18% and 14%, respectively.10:18 AM
Coronavirus in Punjab latest news
Punjab adds another 218 cases to take its tally to 1,451 — 75% of its cases have come in just 4 days10:17 AM
Coronavirus in Maharashtra latest update
With 984 new cases, Maharashtra's tally goes past 15,000 (at 15,525)10:13 AM
Coronavirus in Gujarat latest update: With 441 new cases, Gujarat's tally goes past 6,000 (at 6,245)
10:12 AM
French hacker finds security issue in Aarogya Setu, says Rahul Gandhi was right
French hacker Robert Baptiste, who goes by Elliot Alderson on Twitter, has claimed that there are security issues with the government's contact tracing app, Aarogya Setu. "A security issue has been found in your app. The privacy of 90 million Indians is at stake. Can you contact me in private?" the hacker wrote on Twitter tagging the official account of the app.


Elliot Alderson@fs0c131y
Hi @SetuAarogya,

A security issue has been found in your app. The privacy of 90 million Indians is at stake. Can you contact me in private?

Regards,

PS: @RahulGandhi was right21.2KTwitter Ads info and privacy11.3K people are talking about this10:08 AM
Coronavirus in Rajasthan latest update: 35 new cases in the state
35 new positive cases of Covid-19 and 1 death reported in Rajasthan today. Total number of cases rise to 3193 with death toll at 90. 1,536 people have recovered till now: State Health Department10:06 AM
Coronavirus in India: 2,958 new cases take total India tally to 49,391; with 126 new deaths, India death toll at 1694